The closing part of your business email may be the last part of the email but it is one of the most important parts as it gets many people confused- I used to be confused too.
So, let me show you how I got through my confusion.
There are so many ways to end business e-mails and it's quite easy to get confused on which closing remark to use for what e-mail. You want your closing remark to sound appropriate but how do you choose the appropriate closing remark?
Here are some guidelines to help you choose the appropriate closing remark for your business emails.
1. Consider the Type of Letter You Are Writing
As you already know, there are three types of letters; the formal letter, the informal letter and the semi-formal letter.
Now, in business, the best types of letters for communicating with clients are the formal and semi-formal letters. While you may use the formal approach for communicating with business associates, investors, bankers and prospective clients, you could use the semi-formal approach when communicating with existing clients and associates that you are familiar with.
So, the first step to choosing an appropriate closing remark is deciding on the type of letter you want to write.
---
Sponsored Insertion >>
Make Grammarly

Your Next Best Friend

to Write Better Emails
Grammarly is an indispensable tool for people who write important emails, documents, and web contents.
If you are a manager, sales person or customer service personnel who sends important emails every day, I'm quite confident you would greatly value the quality of your grammar.
Grammarly helps you write important emails professionally by correcting your grammar and spelling errors easily and painlessly.
Once you install the FREE Grammarly extension on your Chrome, Internet Explorer or Firefox browser, Grammarly will quickly check your Grammar and help you change wrong grammar or spelling with just one click.
Bottomline – Grammarly is a "great friend" for people who write important emails. You should try Grammarly right away.
If you prefer Microsoft Add-in, Desktop app or a web app, Grammarly provides them too.
You can easily activate Grammarly here.
---
2. Consider Your Relationship With the Recipient
How close are you to this person? For how long have you known him/her?
Some closing remarks are reserved for people you already know and have a 'relationship' with on a personal level. It would seem rather rude and absolutely inappropriate to use some types of closing remarks for people you are not quite close to.
Now, imagine that you sent me an email to inquire about some services which my company offers and then I replied your mail, supplying you with the information you needed and I decided to end my mail with a closing remark like 'Love always'. Won't that make you feel somewhat uncomfortable?
3. Punctuate Correctly
A closing remark must always be followed by a comma and then space before you sign your name. This is the professional way to end a business email.
You can only break this rule when you are writing informal emails where it doesn't really matter how you close your letter but for any professional emails you are writing, you should stick to this format.
4. Include Your Full Name
When ending professional e-mails, you should always write your full names after the closing remark. Avoid using nicknames or initials only as this may be considered rude and unprofessional.
5. Include Your Corporate Information
If you are writing your mail on a letterhead, you can choose to skip this part as there are possibilities that your contact information would already be included in your letterhead.
When ending professional emails, you could write your job role and company name after your name followed by your company's website address.
6. Use a Professional Email address
I have seen this countless times; it's always quite puzzling. Someone decides to send you a supposed professional email with a very unprofessional email address like 'sexysmartarse@yahoo.com' or 'strongreliableprick@gmail.com'.
Okay, maybe I'm exaggerating a little bit but please, if you are going to be sending out professional emails, create a professional email address with a respectable name for that.
A professional email address should include your first name and last name or at least one of them.

For example – mark.zuckerberg@gmail.com or billgate@yahoo.com or obama@whitehouse.com
7. Don't Be Over Familiar
I already mentioned this but because of how important it is, let me reiterate.
It is important that you don't get too familiar with your clients with the kind of closing remark you choose. You may feel that it's no harm to use any kind of closing remark you choose but it actually is.
You can put your client in an uncomfortable position by using inappropriate closing remarks and worse still; you may put yourself in a position where people start to see you as unprofessional.
To help you choose the right closing remarks for your business letters, I have decided to group the various types of closing remarks into formal and informal categories so that anytime you need to write letters, you can always choose an appropriate closing remark.
Many thanks,
Formal Letters
Informal Letters
Yours sincerely
Cheers
Yours truly
Hugs and kisses
Yours faithfully
Forever yours
Warm regards
Regards
Kind regards
Love always
Best regards
Yours lovingly
Your brother/father/mother/(Insert relationship with recipient)
Sincerely
With affection
With regards
Love and happiness
Many thanks
Love you
With appreciation
Have fun
Yours obediently
Keep smiling
With best wishes
Cheers
Most heartily
Goodbye
With anticipation
Adieu
 Here's the Basic Standard for Ending E-mails Professionally

Yours faithfully,

 

(Leave a space. Normally, that space is supposed to be reserved for your signature. If you have a digital signature, you can insert it here but if you do not, just leave the space and move on to the next step)

(Insert your full name)

(Insert your designation)

(Insert contact details and email address)

That's the simple format for writing a professional email so let's go practical-:
Sample 1: Ending Emails Professionally

Yours sincerely,

 

John Atamora Smith

Chairman, Penthouse Group

08155555555/ johnsmith@yahoo.com
Sample 2: Ending Emails Professionally

Yours faithfully,

 

Peter Piper Faniroti

Managing Director, Faxyron Ltd.

0813464321/ p.faniroti@faxyron.com
Sample 3: Ending Emails Professionally

Yours respectfully,

 

Jumoke DaSilva

Globalvex Telecoms

01-045123
Sample 4: Ending Business Emails for Old Professional Contacts

Kind regards,

 

Chief Ikoko Gbomi

CEO, Ikoko Group of Companies
Sample 5: Ending Business Emails for Old Professional Contacts

Many thanks.

 

Bisi Lawal

Accountant, Penthouse Group
Sample 6: Ending Business Emails for Old Professional Contacts

Thank you for your time.

 

Doyin Adewale

Secretary, Likas Bookshop
If you look closely, you would see that the punctuation has changed. Instead of a comma, you now have a full stop. This is because unlike the previous samples, you are making full statements here.
You can also use situational closing remarks like:
I apologize for the inconvenience.
Please accept my deepest sympathy.
I look forward to seeing you again.
Now, go ahead and write your own samples and like I always say, make sure it is better than mine.
To learn more about "writing emails professionally", read our series of articles on Email Writing Tips.
Recommended Text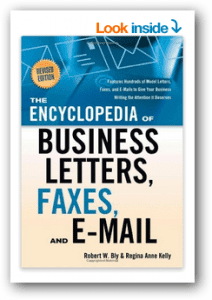 Do you handle correspondence in your office or run your own business?
If English is not your first language, writing emails can appear really daunting knowing that it's important to sound professional, maintain grammatical accuracy and impress your reader.
As a correspondent, you are directly involved in critical day-to-day interactions via email. This makes your ability to craft good email messages, using the perfect phrases and clauses, tangential to your business success.
There is a book by Robert W. Bly & Regina Anne Kelly that will help you to a great extent even if English is not your first language. The revised edition of The Encyclopedia of Business Letters, Faxes, and E-mail contains more help than ever.
This book will greatly improve your communication skills. You will find sample letters, memos, and e-mails that you can either use or adapt for your own purposes. These samples are well arranged in the table of content to help you quickly find whatever you need.
Find out more >>> The Encyclopedia of Business Letters, Faxes, and E-mail