PEM 101 (Part 1): Tips and Templates for Writing Professional Emails
Business is tough. Competition is on the increase. A little mistake can make you lose thousands of dollars.
As a businessman, you cannot avoid writing and responding to emails. The way business-to-business letters or business emails are written is very unique. In business, you have an overriding goal – to make a profit.
As a result, the heading, introduction, body, conclusion, and signature of your business email have to be geared towards this objective.
We have discussed business email headings in a previous post under choose your email subject very carefully with other important aspects of business emails.
My objective here is to lay down the facts using 'business email templates'. You can adapt these business email templates for your own use. All of these templates are real emails from some of the top organizations you know.
Business Email Templates for First Contact with Customers
1. Subject – Thank you for contacting Pilot Channel
Thank you very much for contacting us. One of our staff will reach you within the next 48 hours. Should your request be urgent, please feel free to reach us directly on 009 xxxxxxxxx, Mon.-Fri., 8am-5pm.
Pilot Channel Team
I received this email shortly after contacting an advertising agency.
If you have a specific email address for receiving new contacts, you can use this as your auto-responder.
In addition, you can use this type of short, warm, helpful response to maintain the business scent during the period you are gathering all the required information for the prospect.
2. Subject – Information regarding the registration of PILOTCHANNEL.COM
Congratulations! Your registration of the domain(s) below was successful:
PILOTCHANNEL.COM
The next step: Log in to the Mall Plaza Account Manager, where you can set up your free products (such as email, hosting with a website builder, and a blog), activate services you bought, and manage or modify your domain information (name servers, auto-renewal options, contact information, etc.).
To safely log in:
Go to the MallPlaza.com home page, and log in at the top of the screen with your username or customer number and password. Click on the "My Account" tab, and then click on the domain you'd like to manage to launch the product dashboard.
From the dashboard, you can complete or change your contact information for the account, forward your domain to another URL, change nameservers, set auto-renewal options and much more.
We're MUCH more than just domains!
Check out some of these great products and services that help you get the most out of your domain!
Web Hosting & Servers
Enjoy FREE setup from MallPlaza.com and enjoy a fast, secure, affordable plan that's just right for you – with a company you know and trust. MallPlaza.com offers a world-class data center, best-of-breed equipment, 24/7 live security, monitoring and live support. Starting at just $4.99 per month! Learn more.
Build Your Website
With our templates, you can build a professional site in minutes! Or run your own online store!
Website Promotion
Submit your website to key search engines and directories like Google® and MSN®.
MallPlaza Team
I received this comprehensive email shortly after buying a domain name from Mall Plaza.
As a small or medium-sized business, you can reply your clients with detailed information like this if the required information is handy.
Business Email Templates for Subsequent Contacts with Customers
1. Subject – Ayo, Get Setup on Bell & MegaPlaza Apps
Hello Ayo,
I'm your Bell Account Manager and am available to answer any questions you might have about our services. If you'd like to chat, please feel free to call me directly at xxx-xxx-xxxx or suggest a time that you are available for a quick conversation.
-Thank you for joining the 100,000 businesses that share their content with Bell. Here's a short Bell Overview video that you might find helpful:
Sincerely,
Catherine Shu
xxx-xxx-xxxx
I received this follow-up email from an application developer after completing my registration. Since I did not have any question, I did not reply or call Catherine (in the above follow up business email). So, she sent another follow-up email.
2. Subject – Ayo, Best Practices Using Bell & MegaPlaza Apps
 Dear Ayo,
Congratulations on integrating the MegaPlaza Apps suite with your new Bell account. I'd like to share with you a few best practices to help you get started:
1. Send your users an email reminding them of where they can access their Bell account from MegaPlaza Apps. All they need to do is: Click on "more" in the MegaPlaza Apps nav bar, then click "megaplaza.com".
2. Set up a folder structure that the whole company can use. We often see companies creating folders for each department (e.g. Marketing, Engineering, Finance, etc.).
3. Invite your users as collaborators in the new folders, so they can start share files.
If you have any questions on how to make the most of your Bell, please feel free to call me directly at  xxx-xxx-xxxx or just reply to this email.
Best,
Catherine Shu
xxx-xxx-xxxx
As busy as I was at that time, this email actually caught my attention. On seeing the email, I logged into my bell account, did a few things and left. Here's the next mail I received.
3. Subject – Ayo, a special Bell offer
 Hi Ayo,
I'm checking back in to make sure you're getting the most out of your Bell. If you'd like to continue using our service after the trial period, I'm able to offer you 2 months free for signing up with an annual payment structure.
I'm available today to talk if you are interested in learning more about this offer.
Thanks,
Catherine Shu
xxx-xxx-xxxx
Did you notice the trend of the follow-up emails? Whether the emails were automated or directly written to me, one thing is clear – they were persuasive enough to make me continue to use their application.
So, always bear in mind that the overall goal of your emails is to convert a prospect or retain a regular customer.
Now, back to Pilot Channel, the advertising agency that promised to get in touch with me:
First, they contacted me by phone, asked more questions to help them prepare the 'advertising quotation' correctly and promised to send me all the information by email. Then, I received this follow-up email the following day.
4. Subject – RE: Request for Digital Advertising Quotation
 Hello Ayo,
Thank you for contacting Pilot Channel.
Sequel to our previous conversation, please find attached a proposal and a cost document covering all the advertising platforms stated in the proposal.
Please note, that this is a tentative costing for a 4 weeks campaign.
For further information, please feel free to contact me.
I look forward to hearing from you soon.
Regards
Andrew Mason
Mobile:009xxxxxxxxx ,
Email: [email protected], Web: http://www.pilotchannel.com, Address:  5th Floor, Strong Towers Plaza, London.
The proposal was a PDF document that pitched all their offers, while the cost document contained the 'advertising quotation' I requested for.
I need to tell you this, I found their business attitude very professional and serious, especially because they contacted me by phone whereas the other agencies replied my email after Pilot Channel had contacted about three times. Even if the other advertising agencies had cheaper quotations, Pilot Channel had already assured me of a professional service by their attitude.
Before I end, I would like to emphasize the importance of having a professional email address like [email protected], [email protected] , and not [email protected] or [email protected]. Sending a business email with addresses like these can immediately put off your client.
In addition, I hope you took note of the email signatures used in the above business email templates.
For now, please leave your thoughts in the comment box. I would like you to share your personal experience.
Finally, we recommend that you read the other posts in the series on Professional Emailing:
Recommended Text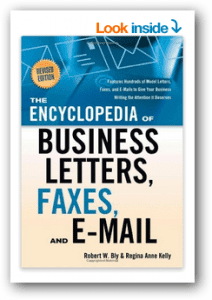 Do you handle correspondence in your office or run your own business?
If English is not your first language, writing emails can appear really daunting knowing that it's important to sound professional, maintain grammatical accuracy and impress your reader.
As a correspondent, you are directly involved in critical day-to-day interactions via email. This makes your ability to craft good email messages, using the perfect phrases and clauses, tangential to your business success.
There is a book by Robert W. Bly & Regina Anne Kelly that will help you to a great extent even if English is not your first language. The revised edition of The Encyclopedia of Business Letters, Faxes, and E-mail contains more help than ever.
This book will greatly improve your communication skills. You will find sample letters, memos, and e-mails that you can either use or adapt for your own purposes. These samples are well arranged in the table of content to help you quickly find whatever you need.