There are a lot products, services, and needs dragging the limited attention and resources of your desired clientele, therefore, businesses must be proactive and inventive in finding ways to reach customers and attract them to offered products or services.  Reaching customers via Email is a versatile and low-cost solution for proactive businesses.
Statistics and findings of studies presented in the article "Email is not dead. But email IS changing" supports the importance of email as a means of reaching customers as there are currently over 6 billion email users. Moreover, a high percentage of these email users – over 60% – prefer email as a means of interacting with businesses.  An equally high number of consumers have also been found to make purchases as a result of email marketing and online interaction with brands and businesses.
So how can you reach customers via email successfully? We will review important considerations and offer tips to develop an effective campaign to reach customers successfully by Email.
3 essential considerations to successfully reach customers by email are:
Have a database of Email addresses
Write effective emails; and
Manage your email campaign efficiently
Building the Database of Email Addresses
It would be impossible to launch an email campaign to reach customers without email addresses. Bounced emails, spam, and unopened emails if unchecked can bloat your email campaign results and lead to no tangible outcomes for your campaign.  Therefore, how you generate emails for your campaign is a key success factor.
So how do businesses generate email addresses?  There are laws guiding the use of emails to reach customers, for example, US Federal law requires that you get the permission of the account holder to be able to send them your marketing email.  Your email must also state why the receiver is getting your email and provide an option for the receiver to unsubscribe.
Research the law guiding the use of email, especially in your region to ensure that you do not break any laws and your emails are not marked as Spam.  Here are some methods businesses can use to legitimately generate email addresses:
Existing Customer Information
If you are not already collecting information from your customers and those that indicate interest in your business, you are missing a great opportunity to build your database and generate new business.  Use registration forms and other data collection tools to collect the names, email addresses, phone numbers, birth dates, social media handles and other relevant information from your current customers and potential customers you interact with for a robust customer relationship management system.
Subscription Forms
Let potential customers find you and indicate interest in receiving content from you.  Add links to your website, blog and social media platforms to enable potential customers to provide relevant information and register to receive information from you.  An example of this includes the forms found at the bottom of blog posts which ask visitors to "Register or Sign up to a Newsletter".  Most social media platforms and website templates allow you to add this feature to your page, so take advantage to build a database of people that are already interested in your content.
Online Profiles and Websites
Business to Business service providers/organizations can generate email addresses of target organizations and executives by visiting the websites of such organizations and social media platforms like LinkedIn and Facebook.  Online profiles and directories are a fantastic means to generate emails for key influencers and personalities you want to see your brand message.
Send emails to industry personalities and potential customers. You collect their emails from such platforms to introduce your organization and provide the option for them to subscribe to your newsletter/mailing list.
Creating an Effective Email Campaign
Emails that are deleted on receipt or never opened are ineffective as they don't even get the opportunity to create an impression of your brand on the recipient.  It is only when potential customers receive and open your email that you have successfully reached them by email.  There are several articles and resources available to help you develop great content and write quality emails to communicate effectively with your target market.
We will concentrate on fundamental steps to ensure your emails capture the interest of your email recipients for better open rates:
Use Creative Subject Lines
Be deliberate in crafting your subject line.  Focus on the interests of your target market to craft creative titles for your emails which are likely to grab attention and make the receiver curious enough about your content to open your email.  Livestrong sends out information packed newsletter and uses interesting subject lines that make you want to open their emails to read the content.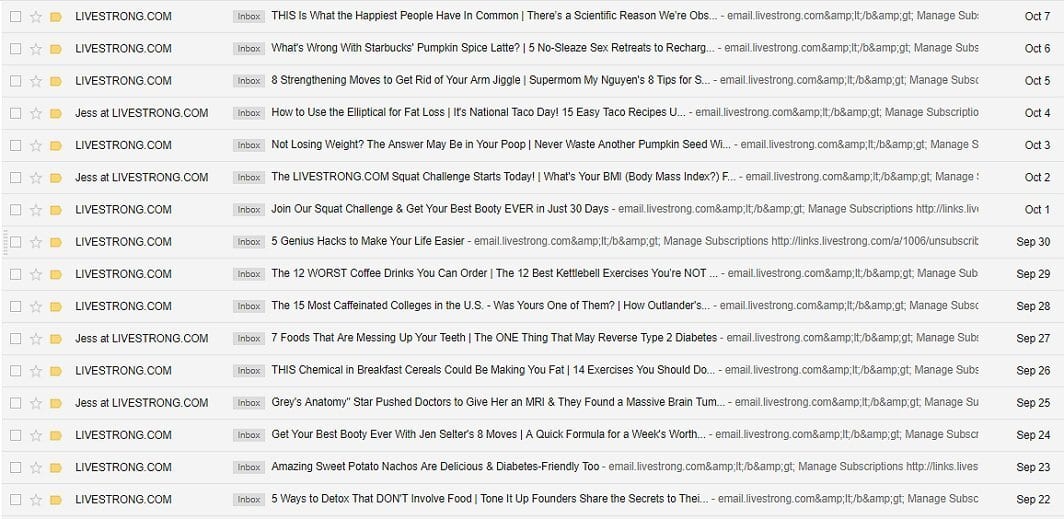 Avoid using terms categorized at "Spam triggers" in your subject line or your emails will go straight into recipients spam boxes, Karen Rubin from Hubspot discusses spam filters and provides a list of terms to avoid here.
Offer Value. Not Sales
Let the focus of your emails be to provide value.  An understanding of your target market will guide you in identifying the information that would be relevant and useful to them.  Providing such information in your email messages will position your communication favorably.  People do not delete or mark emails they look forward to as spam.
Don't limit your content to just your product or services.  Think holistically about your entire value proposition, the demographics of your target market and relevant information that isn't readily available.   Remember that people need insights and information but don't always have the time and motivation to search it out.
Present Content Clearly
The aesthetics of your email will greatly affect the success of your email campaign.  Lengthy emails are ineffective as busy executives and consumers with low attention spans will not read the entire email.  Keep your content brief and use graphics to present information.   Infographics and clickable links that redirect to additional information are a great way to present a lot of information without writing lengthy emails.  You can also monitor clicks on images and links to determine what your audience responds to best.  Below is an example of how this should look when done properly:
Optimize Your Email Campaign
If you have a database and relevant value-adding information, you are set to reach customers effectively by email.  Ensure the continuous efficiency and success of your email campaign by monitoring and evaluating your efforts and results to ensure that your emails achieve your desired objectives.
Most email management tools offer analytics and resources to help you evaluate the performance of your emails to ensure consistency with your objectives.  Important metrics to monitor include:
Best Days
Various social media platforms and email systems have released data and suggestions on the best days to send emails. Tuesdays were found to be a good day to send emails with the highest open rate records.  Your unique business and target market may respond differently so look at your open rates and times to determine the best days and times to send emails.
Open Rates
What percentage of your database open your emails? Which emails got the highest opens? Review what content and subject line formats are most effective based on open rates of emails. By reviewing the open rates of the emails you send, you can constantly improve your skills to ensure better engagement with your target market.
Clickable Links
Monitoring the clicks on images or links in your email message will help you determine the interests of your customers. Clicks on images or links can also help you develop a list of potential clients to target for particular products or services based on what they clicked on in your email.
Shares/Forwards
Great content gets shared! Which of your content gets shared, forwarded or reactions? Monitor this data as it will help you fine-tune your email campaign and improve your reach and engagement with your target markets.  Ensure that reactions – often received as response emails from recipients- are acted upon. 
Conclusion
Reaching customers successfully by email is neither an overnight success story nor a one-off endeavor.  Consistency, perseverance and continuous learning are essential for you to gain the necessary knowledge and skill to truly achieve your business objectives through email marketing.
Set out a frequency/schedule for sending out emails and stick to the frequency to achieve consistency. Then try a combination of different email formats, subject line formats and days of the week and monitor your results and performance closely to determine the most effective strategy for your business goals.