What we write and how to write emails with attachment file is determined by who we are relating to. This is why when an email is sent and a file is attached to the message, the manner we communicate this differs and is determined by our relationship with the person at the other end or the purpose we seek to achieve.
What is an Email Attachment?
Email attachments are files that are attached to email messages, thereby increasing the potential value or benefit of that message to the recipient. These may be files of different formats, sizes, and contents. Attachment can be in text files, documents, spreadsheets, and PDF's form.
Email attachment depends on whom the recipient is to you, when you are sending a casual attachment, like friends and family you don't need to put too much emphasis on the type of files you're attaching and emailing to your recipients. However, if the email is professional or academic for example your boss, business clients, or the head of a college, you need to think a bit more about how best to present the information you are about to send.
Why Emails with Attachments are Different
In a formal setting, when an email is attached, it could be unclear how to express this to the recipient of the email, especially in cases whereby the only important thing is the attached file and there seems to be no reason or purpose to have a body for the message.
Writing the Subject for Emails with Attachments
Some people will not open an email attachment unless they have an idea of what is attached. This is why the subject of your email should clearly state the purpose. The title you have chosen to give your email may sometimes reflect that it is an email with an attachment and shows that the body of your message will be short. For example;
Title: Report, 2016 Carnival
Title: List of names of shortlisted candidates
The titles above do not only give a clue that your email may have attached files but they also give an idea of what to expect in the attachments.
Writing the Body for Emails with Attachments
There are ways to let the recipient of your mail be aware of the files you have attached. This you may have to do directly, stating it clearly. It is important to you that the recipient of your email sees what you have sent. You may go about it by simply letting them know in the most formal way. For example;
"Please find attached to this email a copy of my Curriculum Vitae" or "Find attached to this mail a copy of the Sales Report for the year 2016″.
In cases whereby the only important matter is the attached file, and the body of the message is not quite important, you should make the recipient aware of the files and write briefly what each file is about in the body of the message. It is vital you do not leave the part where the body of the message should be written blank even if the email attachment is the only reason you are sending the email. The body of the message can be built to center around the file(s) you have sent. Your email should also have a subject matter. It could be considered rude to leave those crucial spaces empty.
Sample on How to Write Emails with Attachment File
SAMPLE 1:  Writing Emails with Attachments
Good morning madam,
There are certain things to note when sending an attachment with your email.
In response to the inquiry you made concerning the list of machines and equipment available for inspection in December 2016, please find attached the list that gives the information you need.
Please, let us know if you have any questions regarding the information provided in the attachment.
Thank you.
SAMPLE 2:  Writing Emails with Attachments
Dear Sir,
Please find attached to this email pictures of the products that are available in the supermarket and the discount prices. There are five (5) attached JPEG files.
Kindly let us know if there are details that require clarification. We will be glad to help.
Best regards.
Avoid Pitfalls: 5 Things to Note When Writing Emails with Attachments
You have probably been sending files and documents via email for a while now, maybe to friends and families, colleagues, schools and colleges, business organizations, etc. However, are you doing the right thing? Do you add the attachment at the right time? How about the size of the attachment? Do your recipients have the right software to view the file you attached.
Most people believe that email attachment is just about sending files and documents to the recipient, but it does go beyond that, especially when you are writing a professional email. When sending an attachment via email, there are some rules and guidelines that need to be followed if you don't want your email to get bounced or create an unnecessary nuisance in the inbox of the recipient which might cause them not to open or ignore your email. If that happens it might cost you that job, or that college application; and you don't want that to happen now, do you?
Here are a few things you need to know about sending emails with attachments to avoid common pitfalls.
1. Consider the file format
When sending an email with an attachment, for example, if you're sending a resume or curriculum vitae to a potential employer, or proposals to business clients academic credentials like your transcript and certificates to schools and colleges for admission into an academic program, then you have to consider the type(format) of the file you are attaching. The first thing to consider when sending an email attachment to your business client, your school, company, or organization you wish to work for is the file format.
There are different types of file formats like PDF, spreadsheets, text files, etc. For this reason, you have to consider the best format available to everyone or that is widely used and accepted as a form of email attachment. For example PDF ( portable document format) is the most used of all forms of file format, it can be read by almost everyone who has a phone or computer as they are usually inbuilt. Using PDFs for your email attachments, particularly when you are sending a message to an email distribution list or a large group would make your email attachment accessible and easy to read for the recipient.
2. Consider including a link in your email message rather than a file attachment.
When sending a professional email you can consider uploading a link that contains the information you would like to attach to your email rather than attaching a file. This is because some attachments come in different formats and some require some extra application to view them. Your recipients might not have this application and therefore may not be able to access those files.
As a substitute to this, if you know the information you want to share is available on a particular website or page, then you can share the link. When they click this link it would redirect them to the webpage where they can access the information you need them to get. Most universities and colleges make use of links when they are communicating with potential students without bombarding them with unnecessary email attachments.
3. Avoid sending large email attachments
When you attach a file to an email it is best to stick to the smallest size possible. This is because email servers and clients have a sending limit. Gmail has a limit of 25mb while Outlook has a limit of 10 MB, however, files can also be compressed to zip form before sending it to the recipient. This is because although there is some limit on the amount of data that can be attached to an email, it is best advised by experts to reduce the size of your files to the smallest size possible. Some even advised you to stay away from sending an attachment. That's why they always advise using a web link if possible and in the case where you don't have a choice make it very small.
For example, a university could ask you to send your curriculum vitae, statement of purpose, recommendations letter, test scores, academic transcript, and your academic certificates, etc. instead of sending them one after the other you can compress them into one single PDF form before sending. Reducing the attachment size of your email can increase the deliverability of your message and enable easy downloads of those files you have sent to the recipient.
4. Ask First before sending an attachment
Before sending an email attachment, unless it is specified by the company, school, or business clients, always enquire from the other party when it would be the most appropriate time to do so and then be sure to send it at that appropriate time stipulated by the organization. Always make sure your attachment is sent during business hours especially if the attachment is business-oriented.
5. Make sure to address included email attachments
When sending a professional email and you are going to include an attachment, it is best to address it in the body of the email. You can also state the format you are sending so the recipient would know the type of file you have sent.
Something like "below is a copy of my C.V or here is an attachment of my academic transcript or certificate" would do.
Just let the recipient know you are going to include an attachment. This shows a lot of professionalism on your part. Never attach a file without mentioning it in the body of your email because it might likely not get opened or skipped by the recipient. Another thing to note is to make sure you name the file your are sending. You can use your surname and the first name followed by the name of the file you are sending for example "Blessing John's official transcript" or " Joe Biden's curriculum vitae.
Types of Email Attachments
Different types of files can be sent via email. Before sending a file via email, it's important to note that some specific files can only be opened by specific software. So, it's important to let your recipient know the type of file you'll be sending.
Types of email attachment include:
.txt These files are plain text.
.doc, .pdf, .xls These are document files.
.jpg (or .jpeg) These are image files.
.zip This is a file that acts as a folder for other kinds of files.
How to Attach Files in Email
You can attach any kind of file in your email in 2 methods. There's the option of adding it directly or uploading it from your google drive.
To attach files directly, you need to follow these steps:
Click on compose a new email.
Click on the attach symbol.
Select the file from your file directory.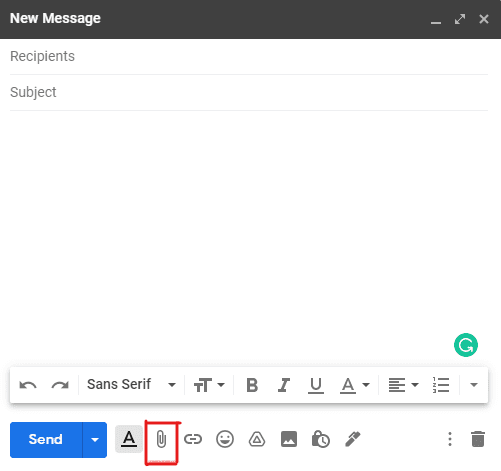 To attach files from your google drive, you must:
Upload the file on your google drive before proceeding to attach it.
Click on compose a new email.
Click on the google drive symbol and attach your file.
When attaching a file from your google drive, you have two options.
The option of inserting the file in your email directly.
The option of sharing a link.
If you're sharing a small-sized file, attaching the file directly is a great option. But if you're sharing a large file or a file that's still a work in progress, it's advisable to send the google drive link. By sharing the google drive link, anyone with the link can share their opinions on the file without necessarily having to download it. If you're a team working on a project together, this is the best option for you.  
Final Tips
As we round up, here are a few other things you should bear in mind:
Do not let the body of your message be too long when sending an attachment in a formal email.
The use of the word "Enclosed" is inappropriate in electronic media. It is ideal when using paper mail
Avoid unrelated matters. You may send a separate email for this. The inclusion of unrelated topics, though significant, may shift the focus away from the importance of the email attachment.
Avoid attaching very heavy files to email. It could be frustrating to download in cases whereby your recipient is even willing to give it a try.
As much as you can it is important to avoid sending too many files. Files can be lost or missed by your recipient while downloading. In cases whereby this is unavoidable, it is crucial to mention in the body of your message the number of files you have attached.
---
Edited by Kelechi Duru